Seed germination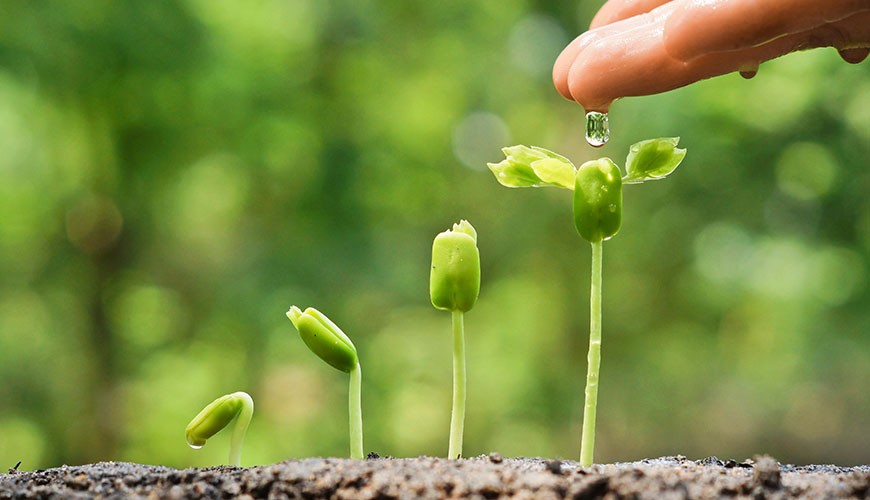 14 8月
Well begun is half done. Before planting your seeds, take time to optimise the conditions for germination.
Seeds need to be encouraged to germinate. Some even require pre-treatment with heat, cold or water. Others germinate in the dark instead of the light. Sowing time may differ per crop. Some seeds germinate faster in summer and others in spring.
What we are saying is: it pays off to learn about the requirements of your crop. In this blog, we will provide a number of recommendations, enabling successful seed germination.
Preparation tips
Use good quality seeds: no older than 2 years, originating from a good source and suitable for your garden or green house.
Sow at the right time: read the back of the bags for advice about the sowing time. Some seeds require in-house germination and should not be transferred outside until temperatures have risen sufficiently.
Choose the right growing medium. Most seeds don't germinate in potting or garden soil. Examples of proper growing media are: the kitchen paper method, Rockwool, rooting sponges, a mixture of vermiculite, perlite and ground peat moss, etcetera.
Use suitable seedbeds of about 7 centimetres deep. Also, make sure they contain holes for drainage.
Planting tips
Moisten the growing medium, but beware of overdoing it.
Find out whether the seeds require soaking before being planted. Do they? Then place them in a container and add some water (at room temperature, the water shouldn't be too cold). Leave for 3 to 24 hours, pour off and pat dry with, for instance, kitchen paper. Soaking in the organic plant germination booster X-Seed is also an option, as this enables the seeds to germinate faster. After soaking, make sure to plant the seeds immediately.
Leave room between the seeds and find out how deep they need to be planted.
Place the seedbed on the best possible spot. Some seeds require sun, others do not. Also, make sure the surrounding area has the right temperature for successful germination.
Beware of over watering, but also ensure you are providing enough water. It is best to cover the seedbed with foil, as this will retain both the moisture and the temperature. Lift the foil daily to enable watering. This will prevent dehydration of the seeds.
Plant care tips
When the first sprigs pop up, make sure to provide enough sunlight and keep the temperature around 20°C.
Keep the seedlings moist.
Upon germination, remove a number of seedlings. This will bolster the remaining seedlings.
Seed germination with X-Seed
X-Seed is a biological plant enhancer for horticulture. It enables crop, such as tomatoes, peppers, aubergines, cucumbers and lettuce to germinate faster. X-seed is also highly suitable for the growing of flowers. This plant enhancer has been tested by the University of Agricultural Science and Veterinary in Bucharest. Test results show that:
Plants are better able to withstand fungi.
Plants are less prone to contract (root) disease.
Seeds germinate three times faster than without X-Seed. Aubergines are said to grow to 3 millimetres within 8 days without X-Seed. With the plant enhancer, they grow to 41 millimetres - a big difference.
Root growth is faster, enabling the plant to absorb nutrients faster.
More information
Would you like to learn more about seed germination? Or about X-Seed? Feel free to contact us at any time. We look forward to helping you out.